Dr Rose Cash is one of the esteemed general dentists at Chelmsford Dental. She is originally from the United Kingdom, where she also acquired her education. She went to the University of Newcastle in 2007 and finished her post-grad in the Peninsula College of Medicine and Dentistry. She graduated in 2011 before completing two-year general professional training (GPT) in oral and maxillofacial surgery in Taunton, Somerset.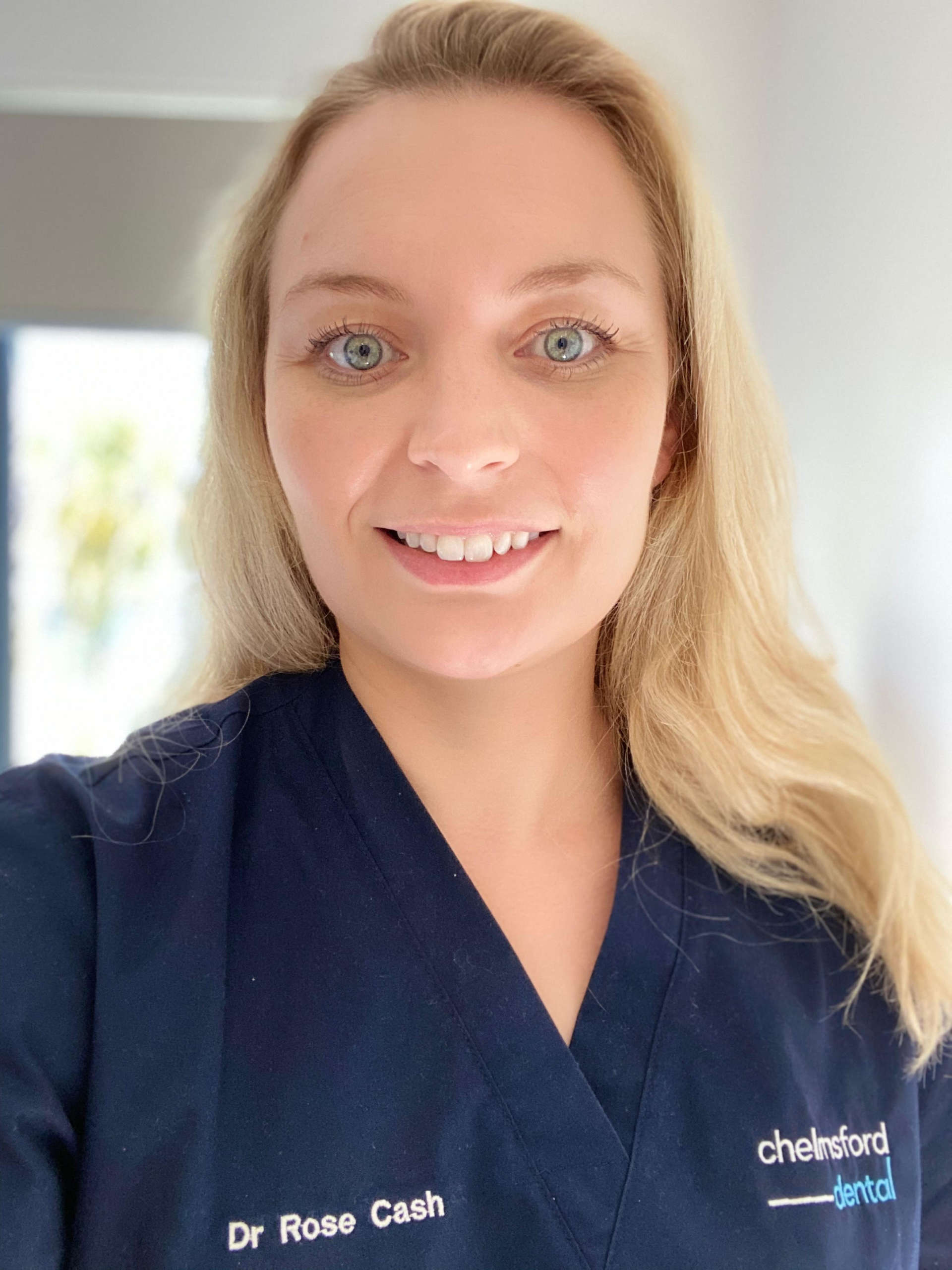 Moving to Australia
In January 2013, Rose moved to Australia and worked in private practice until 2018. After that, she accepted a part-time job at the University of Western Australia as an honorary clinical fellow for dental services.
Working at Chelmsford Dental
Even before becoming a part of Chelmsford Dental, Rose has already known Dr James Roberts for a long time. She took a break from dentistry for about a year when she had her daughter. Just quite recently in March 2020, Rose officially started working at the dental office for two days a week. She still spends the same amount of time at the UWA.
Duties
Qualities
Qualifications
Life Outside of Work
Duties
At Chelmsford Dental, Rose has several duties to fulfil:
 She performs oral surgery on patients who need the procedure.
She also takes care of tooth/teeth extraction, as well as other issues, such as wisdom teeth and soft tissue lesions, among many others.
As a general dentist, she is well-versed in treating everyone, including children, since she is seen as the patients' primary dental care provider.
Once again, she has a great number of jobs, including diagnosing, treating, and managing the oral health care requirements of the patients. Some services are fillings, root canals, and crowns.
Working at Chelmsford Dental involves no pressure. There is an excellent team of professionals that supports one another and keeps everything light-hearted. With so many new techniques and technologies being introduced, someone can require help. It is easy to get assistance by just calling on the phone or conversing in person.
Qualities
Best Qualities
When a patient needs surgery, sedation can be offered. However, Rose is someone who has always excelled at reassuring people. She makes sure the patient is calm and knows about the entire treatment.
An informed person will be less afraid of the procedure. To create a calming environment, she listens to patients when they tell their story. Most of the time, they are apprehensive about discussing their feelings and worries with their dentist. But Rose is willing to lend an ear and give them comfort that they need to get through the journey. Reassurance and knowledge enable patients to feel more ready for the procedure that they end up not needing the sedation at all.
Rose is also a people person who is family orientated. She loves interacting with patients, meeting new and recurring ones. She is a good listener, friendly, and helps keep patients informed.
One big change that she has seen throughout the years as a dentist is that people have placed an intent focus on the aesthetics of dentistry. Instead of learning more about oral health and how to improve it, individuals become more concerned about what they will look after the treatment. Of course, there is nothing wrong with it. But oral health should never be forgotten. It is the key to maintaining a good-looking smile. For this reason, Rose is keen on educating patients when it comes to dental health improvement and maintenance.
Aside from the qualities mentioned, she also likes learning about new things. She has taken an interest in parafunction, which pertains to the different behaviours outside the normal range of what the teeth are supposed to do. An example is teeth grinding or bruxism. She likes to understand more about these abnormal functions, as well as their results, including temporomandibular joint (TMJ) disorders.
Qualifications
Qualifications:
Bachelor of Science with Honours
Graduated from Bachelor of Dental Surgery
Received the Diploma of Membership of the Joint Dental Faculties (MJDF) from The Royal College of Surgeons of England
Completed General Professional Training (GPT)
Trained for Basic Life Support
Several other University of Western Australia experiences, including cultural and linguistically diverse learning packages and Aboriginal learning
Life Outside of Work
Dr Rose Cash is a mum of a two-year-old and a three-year-old groodle. When she is not working, she plays tennis or goes for a walk or swim at the beach. She also loves to go camping and explore beautiful spots in Western Australia whenever possible.